Illuminating the Xinjiang Forced Labor Ecosystem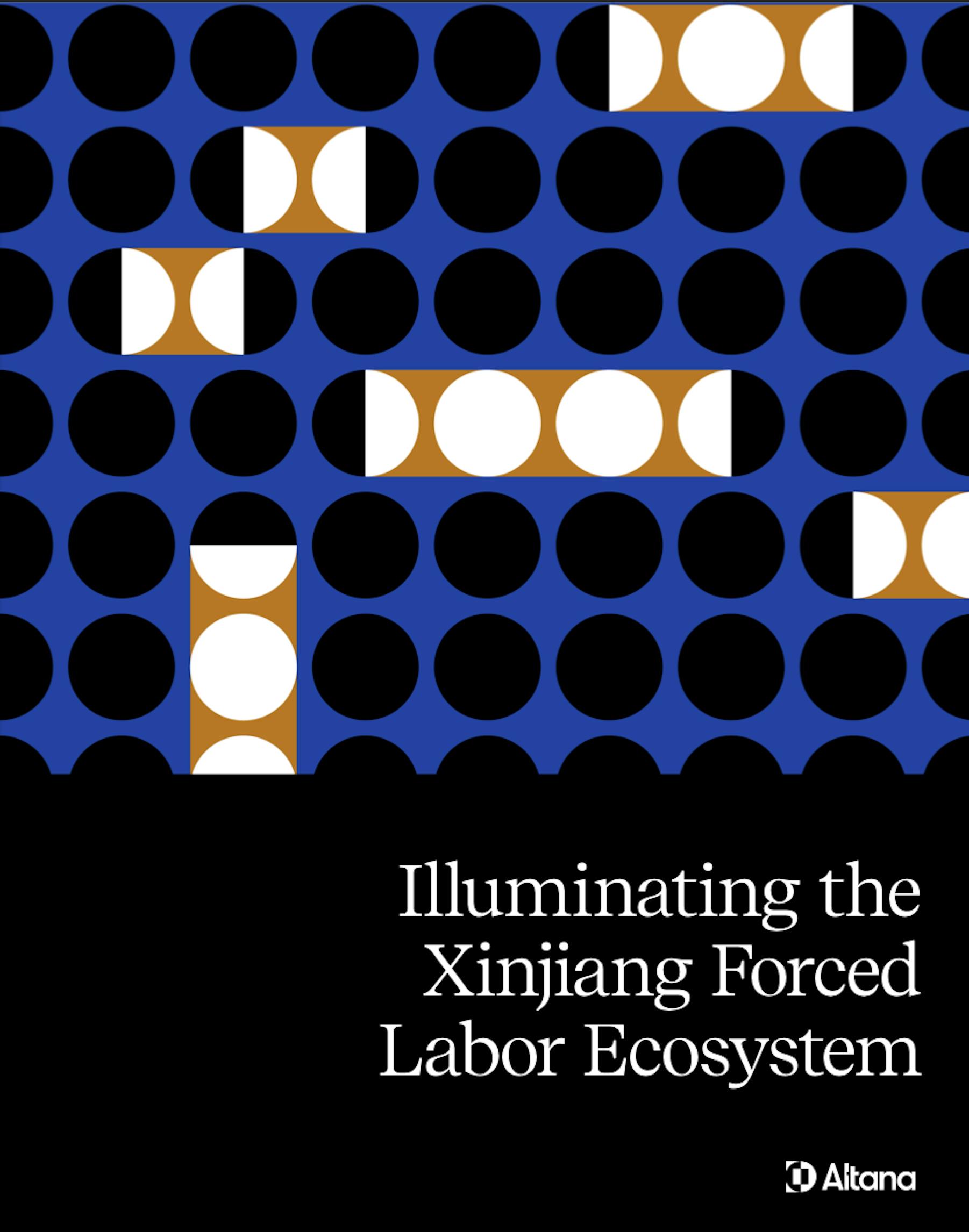 As the United States implements legislation combating Uyghur forced labor, companies around the world need to better understand their supply chains. In this Research Brief, we use the Altana Atlas to illuminate the pathways through which Uyghur forced labor enters the global economy.
A Paradigm Shift in Supply Chain Enforcement
Today, the Uyghur Forced Labor Prevention Act (UFLPA) came into effect. This law introduces the rebuttable presumption that all goods made in whole or in part in the Xinjiang Uyghur Autonomous Region (XUAR) are the product of forced labor, and therefore subject to enforcement action upon entering the United States. This will revolutionize supply chain governance by requiring firms to understand how their goods are made in more detail than ever before.
For many companies, forced labor may seem a distant specter - but Xinjiang is a large region that is well-integrated into the world economy. It is a significant source of both raw materials as well as manufactured goods, many of which find their way into developed country markets. Key commodities such as cotton, tomatoes, and polysilicon are well known - but Xinjiang's role in the auto industry, advanced battery manufacturing, or pharmaceuticals is less well-understood. Given the global reach of many of these industries, it is imperative that businesses understand their exposure.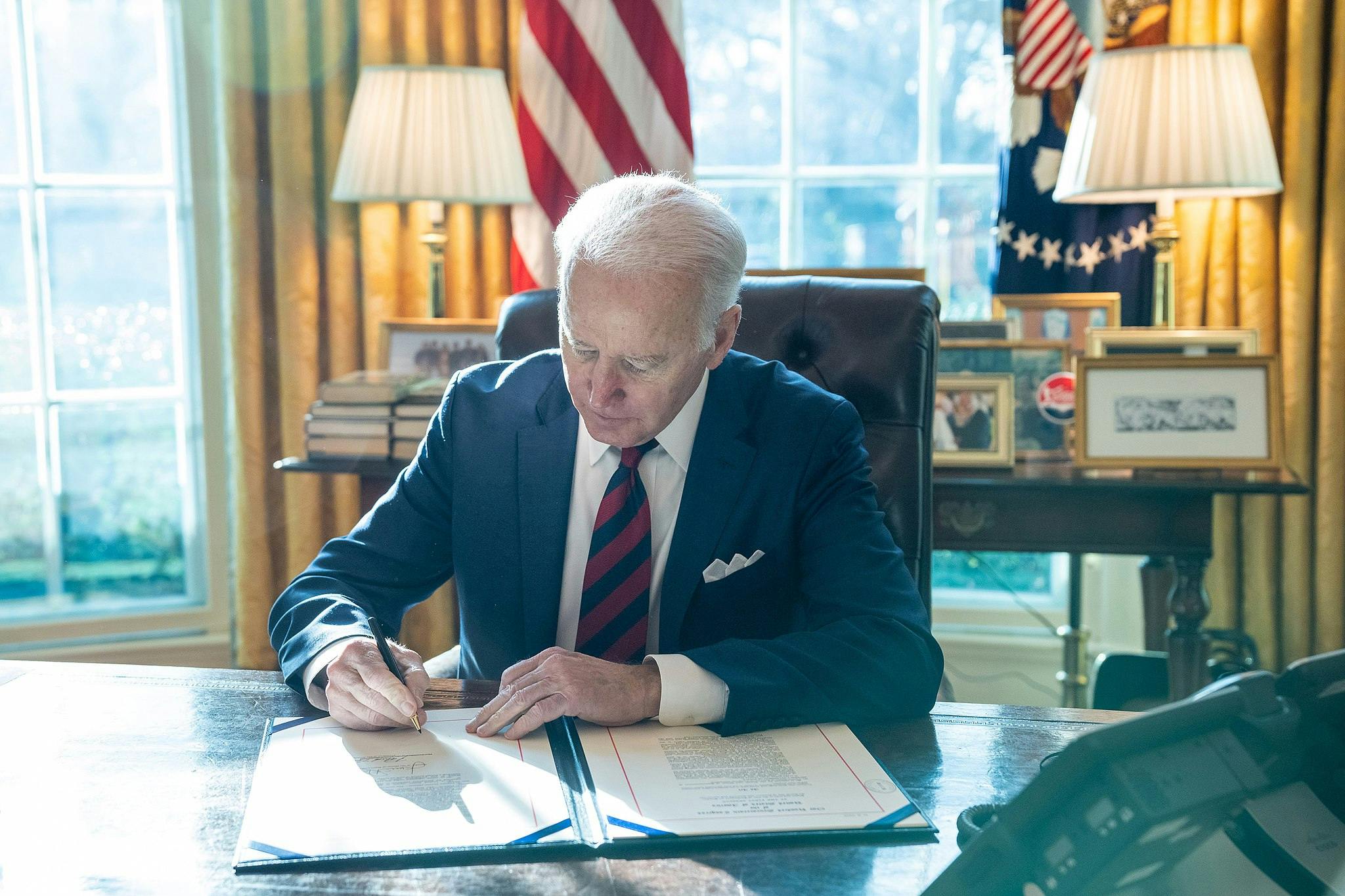 President Joe Biden signs H.R. 6256, an act "to ensure that goods made with forced labor in the Xinjiang Uyghur Autonomous Region of the People's Republic of China do not enter the United States market, and for other purposes", Thursday, December 23, 2021, in the Oval Office of the White House. (Official White House Photo by Adam Schultz)
It's Possible to Understand the Uyghur Forced Labor Ecosystem
This Altana Research Brief uses the Altana Atlas to map the ecosystem of businesses supporting forced labor in the Xinjiang Uyghur Autonomous Region (XUAR). In total, the Altana Atlas reveals nearly 1 million entities tied to forced labor in China. These entities are deeply embedded in the global economy: they carry on millions of trade relationships across nearly 600 different sub-industries. We map these supply chains to show how goods produced with forced labor can be detected at scale within international supply chains, even when they are separated from the ultimate purchaser by geography, time, or multiple tiers of suppliers. 
In real time, the Atlas shows goods from Xinjiang being integrated into final products as varied as men's razors destined for Australia, photovoltaic cells for US markets, electronic goods for European consumers, and antibiotics for global consumption. Forced labor inputs are found in the clothes we wear, the foods we consume, the medicines we use, and even the diapers we put on our infants. But it doesn't have to be that way.
The Altana Atlas reveals that:
Uyghur forced labor's global trade footprint is much larger than previously understood. Combining Altana Atlas company data with risk data from reputable third party providers, we found 938,991 companies that are likely to be subject to enforcement action under the Uyghur Forced Labor Protection Act (UFLPA), a new forced labor law which takes effect in June 2022. This includes 712,509 companies with facilities in Xinjiang, as well as 549,292 companies with credible ties to forced labor via public reporting.
Uyghur forced labor is deeply embedded in the global economy. In total, the Altana Atlas reveals 785,415 first-tier trading relationships between entities tied to forced labor and the rest of the global economy. At the next tier, this figure balloons to 6,871,643  trading relationships. At each tier, the number of trade connections grows - showcasing the challenge for firms seeking to rid their supply chains of forced labor using traditional due diligence techniques.
Uyghur forced labor touches virtually every industry. Companies with trading relationships were spread across 590 separate industries, including the textile, pharmaceutical, natural gas, agricultural, furniture and automotive industries. Each one of these connections represents a pathway for goods derived from forced labor to enter the global flow of commerce.
Uyghur forced labor's impact is global. 183 countries received direct shipments from companies that the Altana Atlas identified as being involved in forced labor since the beginning of 2019. This includes countries such as the United States, Canada, India, the United Kingdom, Australia, Brazil, and France.
It's Possible to Isolate Forced Labor from the Global Economy.
The status quo on its own cannot solve forced labor. The private sector's tools for combating forced labor - audits, surveys, and exhaustive investigations - cannot be deployed at the level required by the Uyghur Forced Labor Ecosystem. The challenge of our time is to re-define how commercial networks gather and share information in order to empower them to play a more constructive role in creating trusted supply chains. By engaging between and among businesses and governments through a shared source of supply chain truth, it is possible to coordinate demand and supply, build resilient supply chains, surface and mitigate sustainability and compliance concerns, and to share and validate supply chain behavior with regulators.
This study shows that despite its pervasive nature, it is possible to understand how forced labor winds its way into global supply chains. As the Uyghur Forced Labor Protection Act comes into effect, it is critical that firms understand how goods produced by Xinjiang forced labor enter their supply chains. 
This will require companies to deploy advanced technology, overcome strong institutional inertia, forge unconventional alliances across government and private sector actors, and most importantly share, and not hoard, their supply chain data. To learn how, download the paper or reach out to learn more about the Altana Atlas.